¡Tapas Tuesday!
August 15th @ 5:30 pm

-

7:30 pm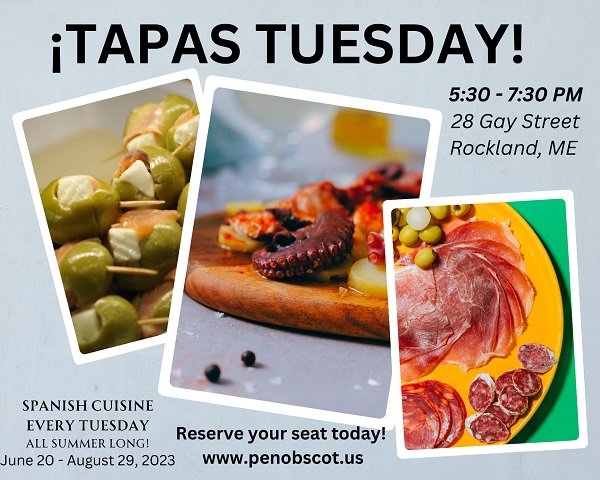 Our weekly pop-up (Spanish) TAPAS BAR is back for summer 2023! Watch as Penobscot Bay Language School transforms into an authentic Spanish style "tapas bar" each Tuesday this summer! Enjoy a variety of delicious tapas each week–with other members of our community! Experience the ambiance of an unforgettable evening in Spain–right here in Midcoast Maine!
Tuesdays, June 20 – August 29, 2023
5:30 – 7:30 PM
28 Gay Street, Rockland, ME 04841
This year PBLS will highlight a special "tapa of the week" from one of the seventeen autonomous regions of Spain. This summer's program is sure to please anyone who has spent time in Spain–or those that are looking forward to an upcoming trip (perhaps with PBLS!)!
Due to the popularity of this event online registration is required. Please use the following options to select your reservation type. Youth under 21 years of age must be accompanied by a parent or guardian to attend.
¡Buen provecho!
In case you were curious…
"Tapas" (meaning "cap") in Castilian Spanish are a culinary and social aspect of Spanish culture that has a long and rich history throughout the entire Iberian peninsula. Some say that the term tapa refers to the little morsel of food, often sitting on a small piece of bread, placed on top (as a cap) of an after work drink to keep flies out of the drink. Other versions of the etymology may come from the idea that tapas are eaten several hours before the late night dinners traditionally served around the Mediterranean., A few tapas and a drink is enough to cap your appetite until that late dinner.
---
WEEKLY RESERVATION OPTIONS:
Table Seat (includes: 2 tapas per guest)                                                                 $10
Bar Stool* (includes a sample of each tapa being served per guest)                     $20
Table for Four (includes: 2x 4 tapas per table)                                                       $30
* "Bar Stool" option is subject to weekly availability and registration is managed on a first come, first served basis. This option also includes the opportunity to watch each of the tapas being prepared in real time–with step by step demonstrations for each dish! This unique peek into the preparation, cooking, and serving of each dish is especially fun for anyone interested in exploring intercultural exchange through the culinary arts.
SUMMERLONG OPTION:
Tapas Tuesday "Supper Club"                                                                               $100
This summerlong special includes a weekly seat at the bar, samples of each tapa being served per event, "raciones" (larger servings), off-menu items, interactive cooking demonstrations with cultural explanations… ALL SUMMER LONG! (6/20 – 8/29, 2023).